Aquapark Niredgaza or Aquarius is a modern medical complex with thermal waters, which is among the top ten facilities of this type in all of Hungary. It works all year round and welcomes not only Hungarians, but also tourists from many countries of Europe and the world. He started his work in 2005. The resort is located on the territory of 1.7 hectares. Here you can not only have fun and relax, but also get better. The water used in the water park is saturated with useful molecules and has a positive effect on the body.
Thermal pools in Aquarius
The water park has several thermal health pools:
– 2 closed: thermal and pool jacuzzi (34-36 degrees Celsius);
– 2 pools according to the Kneipp method (effect on the body through foot massage) with cold (16-20 degrees) and warm water (38-40 degrees);
– external thermal pool (36-38 degrees Celsius).
The following pools are ideal for family fun:
– Pool with waves (28-30 degrees);
– Slides: Kamikaze, Giant, Family, Black Hole;
– Corridor with a cave with a water wall;
– Two pools, which are entered from the slides.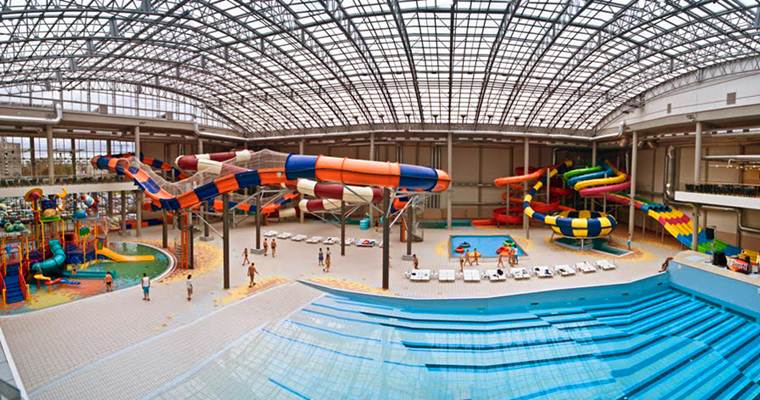 Niredgaz Aquapark – entertainment and services
The water park complex includes a sports hall, an aerobics room, a family pool, slides, a jacuzzi, and much more. The smallest visitors can find their own, small world with a warm pool (30-32 degrees) and small slides, a stylized room of a pirate ship. There is also a beauty salon on the territory, where pedicure, solarium, and massage services are provided. You have the opportunity to consult a doctor on the spot and get an appointment for health procedures.
After paying for the entrance ticket, you get a magnetic bracelet. It performs several functions at the same time: it opens a locker with things and is a money card. This means that you do not need to carry money with you, all expenses will be entered on the bracelet, and you can pay at the exit.
Swimwear, towels, bathrobes, slippers and many other things for bathing and relaxation, you can bring with you, buy or rent on the spot. Some water attractions have age restrictions, which the water park instructors will definitely warn you about.
Visitors can use the following saunas:
– Finnish;
– Aroma sauna;
– Parna;
– Infrared;
Additional relaxation and recovery procedures:
– Therapeutic massage;
– Refreshing massage;
– Underwater physical therapy;
– Water jet massage;
– Mud procedures;
– Carbon dioxide bath;
– Mechanical lymphatic drainage.
Hotels near the water park
Aventinus Hotel can be found at 4400, Sóstói út 66. It is located on the outskirts of the city, a 5-minute walk from the water park. Rooms surrounded by a garden. There is a spa center, restaurant, bar, conference and banquet halls, free parking on the territory. There is a beach nearby. There are facilities for people with disabilities. The cost of a double room starts from 85 euros.
Hotel Central is located at coordinates 4400, Nyar u. 2. The 4-star hotel is located in a quiet part of the city. There are separate halls for banquets and conferences that can accommodate up to 200 people. Pets can be accommodated. The price for a double room starts from 80 euros.
Hotel Continent is located at 4400, Sóstói út 52. Pets are not allowed. Available car rental, airport transfer, conference and banquet hall, dry cleaning, laundry, free parking. The cost of a double room starts from 35 euros.
Victoria Garden Hotel és Étterem can be found at 4400, Sóstói út 60/A. The hotel is located in a quiet area of the city of Niredhaza. The restaurant serves Hungarian and international cuisine. The price of a room for two people starts from 65 euros.
Night bathing
During the summer, every Wednesday and Friday from 21:00, there is a night swim with cocktails and music by local DJs.
Entrance from the Barbizon Hotel (Nyíregyháza – Sóstógyógyfürdő, Szódaház u. 14).
The cost is 2000 HUF (200 UAH).
How to get to Niredgaz water park
Niredhaza is the seventh largest city in Hungary, 75-80 km from the border with Ukraine. It has a centuries-old history and was first mentioned in 1209. In the 16th century, the Turks turned it into ruins, but in the middle of the next century it was restored and inhabited. The main natural attraction of the city is the lake with thermal water Šostódjöfjörður, where Aquarius (Niredhaza water park) is located. Read more about Niredgaz here.
Aquapark Aquarius is located at 4431 Nyíregyháza-Sóstógyógyfürdő, Sóstói út. The most convenient way to move around the city is by bus, most of them run through the railway station. Tickets can be bought at newsstands or directly from the driver.